"O Yudhishthira, the spot where Ganga rusheth past, cleaving the foremost of mountains which is frequented by Gandharvas and Yakshas and Rakshasas and Apsaras, and inhabited by hunters, and Kinnaras, is called Gangadwara (Haridwar)"….. The Mahabharata, Vana Parva.
This story begins in Dehra Dun. The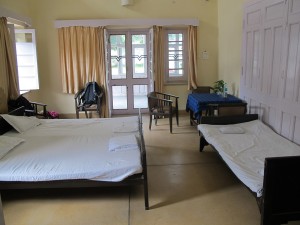 large, art deco room we inhabit here is so convincingly painted that none of the door or window bolts are usable, sealed shut by a thick glisten of white enamel. Outside the room's French doors, on an enclosed verandah, a Christian Sunday School group is in progress. Last night the room service men had come and taken the chairs by our bedsides "for church". It was puzzling, this old house, the White House, now being a hotel – but we just let it go, along with the chairs. So this morning hymn singing and prayer recitals hum along nearby, and the children's lessons are murmuring at our door. Later, the congregation chatters in the driveway before dispersing, the children running and laughing with post-church freedom.
The sounds bring for me a Proustian 'involuntary memory', as did the writer's famous encounter with the petites madeleines, the taste of those little cakes sending him back, blissfully, to a childhood moment. For suddenly I remember coming out from the small wooden church in Kingscliff in my childhood days, out from the propriety and restriction, to the green grass under the banksia tree in the grounds, the Pacific Ocean smiling blue across the road. I agreed with my mother that God was easier to find under any tree than in a church, yet it may be that the enforced constraint on a Sunday morning served to reawaken us to the bright beauty waiting outside. Now, in a different place entirely, the sounds of the released children, and the pleasant undertones of the community gathering of the parents, evoke that moment of a loved life gone by. Such moments may always live within us, awakening to vivid reality only by chance, rarely by a more
active striving to recapture them. Sensory glimpses may act as keys, and for me, it is often flowers – the shimmer of livingstone daisies, sweet alyssum wafting in hot summer sun, the round orange faces and sharp odour of calendulas that my mother planted each winter. It is not necessarily memories in an intellectual sense that are awakened, but a window to a place of eternal innocence and beauty, something we always know inside ourselves, but rarely can touch.
We spent only two days here in Dehra Dun, as a transit point. It is a middle class sort of town, right at the foothills of the mountains. It is sedate, cleaner, cooler, different altogether to Hardwar, our previous destination. I lay on the bed in the White House trying to overcome a bout of feverish illness-with-bad-headache that I had brought along as a trophy of our time in Hardwar. I knew as soon as I saw Hardwar that it would make me ill. There are certain types of Indian towns that are harsh, unforgiving of foreign constitutions.
The four hour train journey from Delhi to Hardwar had been pleasant with countryside green after the rains, little acreages of pulses or potatoes tended by women in graceful attire (as Indian women always are). Lines of large leafed paulonia trees create orderly borders, perfect jigsaw puzzle scenes. Men and boys fish at gushing rivulets, cows graze peacefully, attended by white egrets. We read the day's Indian news, and are served cups of tea, with biscuits. We pass through Muzaffarnagar, a large town recently infamous for some truly dreadful politically instigated communal violence.
At Hardwar Station, we take an autorickshaw to Gyan Hotel. It's a rough ride, over potholed roads, then a long bridge over rushing water (the Ganges River) and down a rattling track lined by make-shift pilgrims' camps, tarpaulined shops and scattered bush. The driver halts, pointing to where we must walk to the hotel – across a strong footbridge, where the township fronts the main ghats, the wide steps that border the river. Hotel Gyan is an ugly modern building amongst other ugly modern buildings and some older, sagging ones. The cone shaped spires of temples are dotted here and there. We see people strolling or sitting along the ghats, and along the broad concourse that hems the sacred river. Beyond this, the town is congested onto a narrow strip with forested, steep hills rising behind . A temple stands at the apex, aloof with importance. It's astonishing that in only a few days in a strange town, all these sights do become familiar, though in Hardwar particularly I always felt an outsider (a natural condition, for a traveller). We check into Gyan Hotel with the usual mixture of relief and slight trepidation.
There are some personal neuroticisms that are always tested for me in India. It's a good thing; it frees me a little, makes me more flexible, to be forced out of my comfort zone. One of these pressure points involves varieties of claustrophobia. I don't like lifts, for example, especially in India where the electricity supply is so unreliable and workmanship not always, let us say, of highest standard. One evening in Calcutta when visiting a rooftop restaurant with friends I walked up and down all the steps of a very high building indeed. I became lost at the bottom, but that is another story. In Hotel Gyan, our room is on the third floor and the only reasonable access is by lift. This adds another problem to the one of lift phobia – I feel a loss of independent movement, as the lift is run by an attendant, so it seems a nuisance if I need to go up and down to our room too often. But the lift attendant is such a nice elderly man, with a gentle smile, working a ten hour day before cycling six kilometers home. We gather this information over the next few days, for although he speaks only halting English he is more conversant in our language than are any others we meet here; he has a cultured mien, as if he would know the classics, as if he sees through the human foibles of the lift passengers in a tolerant but tired way. Dear readers, the lift did not break down, killing me of self induced hysteria or of suffocation. Undoubtedly I am, as travel writer Paul Theroux said of his colleague Bruce Chatwin, "a timid traveller".
Our Hardwar room is smallish and only a bit grubby. We quickly cover over the grimy water cooler in the window so as not to catch Legionnaire's Disease, and enjoy instead the fan swirling coolly and the view of the forested hills behind, and the monkeyed rooftops below. The pillows are like planks of wood with rough cotton covers that could be mistaken for hessian when I turn in the night, sandpapering my face. And nobody here serves cups of tea.
But the good thing about the Hotel Gyan is that it opens straight onto the main ghat, the Har Ki Pairi – the "steps of God". A confusion arises over whose "gateway" this town is, though, for Hari-dwar means "gateway of Vishnu" and "Har–dwar" gateway of Shiva. It is the starting point for the important Char Dham pilgrimage to the mountain centres in Uttarakand, for both Shaivites and Vaishnavites, so that is the answer, I guess. Hardwar is also sacred as the place where the heart and navel of Shiva's wife, Sati, fell to earth after her self-immolation in protest at an insult by her father to her husband (I'm so glad honour is less stringently observed in our family…or that my tantrums are milder..). Even more momentous is that here too one of the four drops of the nectar of immortality fell to earth, making Hardwar one of the four holy sites of the Kumbh Mela, Hinduism's most massive pilgrimage, held every twelve years.
Beyond all those beliefs, Hardwar is the place where Mother Ganga bursts forth from her mountain source (though tempered, legend says, by the locks of Shiva's hair, as he sits in yogic meditation in the highest Himalayas). Here the river emerges to the wide plains of northern India, to nourish and cleanse its people all across the land, to the Bay of Bengal in the east. The broad walkways, steps and bridges by the river are busy with a mix of pandits (priests), sadhus (wandering holy men), families of pilgrims, groups of beggars, and myriad salesmen and women. Cows browse the bins, innocently chewing on plastic bags, or relax, tucked up like giant resigned dogs, on the hard, hot surface. Uniformed officials wander about collecting money, and the odd posse of police with lathis (long staffs) appear occasionally, moving beggars along when it takes their fancy. A few foreign tourists look worn and overheated. It is very, very hot on this stone platform and only a few giant trees remain for shelter, at wide distances apart. These ancient trees remind me that once the whole of northern India was a deep forest, filled with birdsong, wild beasts and flowers, and stories that still live today, though most of the rest is gone.
In the evenings, when the harsh sun has faded and the river is as always leaping and rushing, clean and lively, we find the least filthy place on the steps to sit in the quiet. We watch the beautiful diyas, leaf boats filled with flowers, a wick burning in their centre, as they dance along on the current. They truly symbolize the bright, brief light of our lives, that is borne at last to the infinite ocean. I thought of my beautiful mother with love and deep sadness for our separation; I would send such a wish, full of roses, down the river in Varanasi, as I had done for her sister many years ago. Now too, at the main temple, the priests perform a Ganga aarti ceremony with flaming torches held aloft; all these lights, the tiny diyas, the circling torches, reflect golden on the waters. Everyone seems at peace, the crowds begin to disperse, or to roll out a sheet and settle to sleep for the night.
Because Hardwar is so holy, and so pilgrim focused, it is strictly vegetarian (no eggs) and, naturally, with any form of alcohol strictly forbidden. That was not a problem for us, but it was not so easy to find a place we felt safe (clean) to eat, at first. We walked to the main street through the narrow alleyways slippery with water, busy with vendors, the usual sniffing dogs, occasionally a cycle rickshaw and too often a beeping motorbike. There are counters of glistening cheap jewellery, frying vats of food in tiny dark-corner eateries, smelly urinals (for men – women in India don't pee), children hand-in-hand with grandfathers, and so on. One shop, smelling delicious, sells mounds of fresh, oily pickles. At the main road, deafened by the blaring of motorbike horns so that my ears ring with pain, we avoid deep drains and being run down and find a restaurant Michael had read of. In an underground, cavern-like space, it has very good biryanis and vegetable dishes, and sweet, thick lassi to drink. There are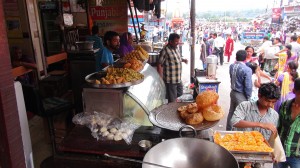 few English language signs in Hardwar, and little English spoken; many other eateries are beyond our ability to communicate. Even to find tea and breakfast can be a feat. A dhaba on the ghat near our hotel serves Indian breakfasts of puris and channa, which Michael enjoys, while I stick to a roti with banana, not wanting to face curry when just out of bed. Some days they do not serve tea, so we must wait till a chai stall nearby opens later in the day. I know some friends will reel with horror, reading of these tea-less mornings.
At the chai stall, we sit on wobbly plastic chairs and are constantly attended by a beggar woman. Each time we are there, she stands close in front of us and smiles and stares, hand held out. We don't give her money. She is too pushy and she looks perfectly healthy; besides, each day food is distributed to all beggars from a canteen further along the ghat. I won't begin to speak here on the ethics of begging and of charity; it is far too complex, troubling and constant an issue, in India. There are innumerable beggars on the ghats at Hardwar and in the streets nearby. Many are sadhus, many are old people. Pilgrims hand out coins to the beggars to gain merit; sometimes near riots are caused by this practice. I begin to feel depressed by some aspects of Hardwar. The ubiquitous beggars are one of those, especially the old and the maimed; the plastic-bag-eating holy cows and the unnatural life these gentle creatures lead, another. Motorbikes-as-God, and the thoughtless behaviour of their young male drivers, outrage me. And the pilgrims…
Hardwar is a kshetra, a sacred 'field', a place where moksha (the gaining of final release, the ultimate goal of Hindu life) can be achieved. Many pilgrims therefore come here for special blessings, or to immerse the ashes of deceased family members in the sacred river, and incidentally to visit pandits who keep genealogical records of whole families and villages for ages past. We sit near the water beside a young family who dip the feet of their baby girl in the river, splash her face with the water, the young mother smiling with joy. It is clearly a moment of arrival for which they have longed. An older, very fat woman is helped by her husband and by passers by, who assist her in clambering down the slippery steps to immerse her feet. Then she sits, exhausted but at peace, a mission accomplished. Robust men and boys jump gleefully into the river, holding the chains along the banks in order not to be swept away by the racing current; women more sedately dampen their heads and raise the water to their lips.
But these pleasant sights are not the reasons I become gradually 'depressed' by the pilgrims. Some well dressed Delhi-ites looking far too sophisticated, a little ill at ease, in the company of so many villagers, the lines of the blind or the crippled seeking succour, the holiday camp atmosphere of the cable car to the hilltop Mansa Devi Temple (she who fulfills desires), and the image of the thousands (ourselves amongst them) being herded through that temple by voracious priests, erode any sense of the sacred, to my mind. Instead, they leave an impression of people subsumed by a tradition which costs them dearly in money most can little afford, or in the effort of the journey on old or frail bodies, on bodies worked hard, damaged in unending manual toil. The wealth reaped by temples is immense, the poverty of most pilgrims here equally apparent. It touches my heart to see them.
In journalist Martin Buckley's book, Indian Odyssey, which follows the trail of the Ramayana around India, a Brahman who is showing him the city of Ayodhya observes "the corruption in some of these temples is boundless, you know that? The most popular temples are money making machines. Donations are diverted into the pockets of unscrupulous priests – they are scoundrels. Come between them and their ill gotten gains and they would kill you. You know that?"
An Indian friend later explained to us that the lineages of priests vary between different towns, different temples. I am not saying, on our brief encounter with Hardwar, that its temples, or their working brahmans, are so corrupt (and certainly that can be said of some miscreants in any religion). I am merely giving my impression of an unease about some aspects of this much revered city. The day we left Hardwar was a special day, for remembering deceased family and for cremation or immersion of those recently dead. People pour in from the surrounding countryside, by bus and train, and on foot; the road to the station is packed with vehicles barely moving. Horns blare constantly amidst the fumes. Grey grit covers all. The sun is fierce. A white, blinkered horse pulls a gari that stopped in front of our autorickshaw. In it are seated some elderly, silk saried women, their husbands in front. The patient horse, the beautiful women, are like a page from a gentler era, gone long ago.
I was exhausted by Hardwar. On reflection, I can see that despite my fears for the vulnerability of many devotees, journeying to this sacred place is a culmination of their hopes, perhaps giving meaning and purpose to otherwise difficult lives, a sense of belonging and community, as had come to me in Dehra Dun. Afterwards, their minds calmed, a devotion completed, they too may see the ground they till as softer, the fields as greener, their neighbours as themselves.